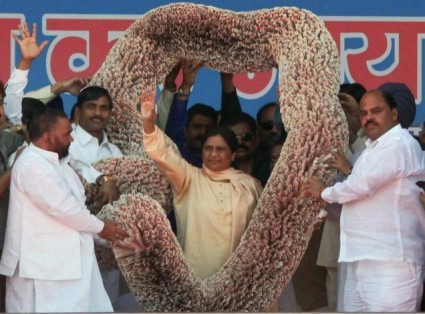 Heard about the recent furore over the garland of thousand-rupee notes that was presented to her Royal Majesty, Mayawati, by her party workers? One of her cronies has now come out and said that the media reports got it all wrong, and the value of the garland was "only Rs.21 lakh," and not the Rs 5 crore that some people reported. (The rally at which it was presented reportedly cost Rs 200 crore, though the crony denied that figure as well.) Since then, the IT department has ordered a probe into Mayawati's funds, while Her Highness has gotten herself another garland of notes. (Only Rs 18 lakh this time.)
Now, really, as long as it isn't our taxes being spent, this should not bother me. But this kind of behaviour demonstrates, yet again, how our politicians believe that they are our rulers, and not our servants. This seems to be an attitude shared by most voters as well. Sure, many of them don't like Mayawati, and would rather have a tribal leader of their choice on the throne, but you get what I'm saying.
Also, I have to say that a garland of currency notes is more honest and apt for the times we live in than one of dead flowers. Such it goes.
(First link via email from Maria Thomas.)