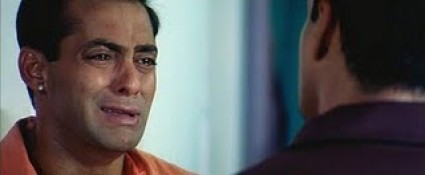 Salman Khan bagged the Best Actor Jury Award at an award function last night. Apparently the actor was expecting to win the Best Popular Actor Award which went to Shah Rukh Khan.

[…]

The actor was present backstage when the Jury Award and the Popular Awards were announced. Disappointed with the announcement, Salman refused to come on stage to receive his award.
This is hilarious at multiple levels, but leave that aside. I feel a bit sad for Salman, that such a petty thing should matter to a grown man. In award-infested Bollywood, who remembers who got which award for what film anyway? After the kind of career he's had, it's kind of poignant that Salman Khan needs validation this bad.
Having said that, I will now stop commenting on how 40-plus men can play characters so many years younger than them. If they behave like babies, then maybe they're really just acting above their age.
(Pic source: bollywooddeewana.)