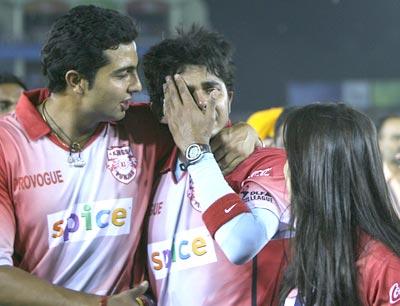 Compared to Indian hockey, cricket in India lives up to the cliché of being a gentleman's game: at least players don't hit each other, as in common in the sport KPS Gill destroyed. However, Harbhajan Singh seems to have forgotten which sport he was playing yesterday. NDTV reports:
Mumbai Indians captain Harbhajan Singh and Kings XI paceman S Sreesanth were on Friday involved in a bitter row, following which the fast bowler was seen crying bitterly on the ground at the end of their IPL match here.

Harbhajan allegedly slapped Sreesanth after the paceman said something to Harbhajan which offended the off-spinner.
Sources close to [Sreesanth] said that after the match a smiling Sreesanth walked up to Harbhajan – the captain of the losing Mumbai Indians – and said "Hard luck". "That was enough for Harbhajan to lose his cool and hit Sreesanth under the eye," said sources close to the fast bowler.
'Sources close to Sreesanth' would generally be Sreesanth himself, but I could be wrong. Both the players involved are characters—Sreesanth's an immature buffoon, Bhajji's an unmannered lout—but regardless of whether Sreesanth really said something as innocuous as "hard luck," Harbhajan deserves to have his ass kicked by the authorities. Hitting fellow players just isn't on, and if they set a precedent of non-punishment, Andrew Symonds and Matthew Hayden might just get wicket wicked ideas.
And really, how could they have made Harbhajan captain of Mumbai Indians? I'd put VVS Laxman down as being the worst captain of the IPL so far, but Harbhajan seems to have brought an extra dimension to the job. Maybe he has a future in parliament.
(NDTV link via email from S Jagadish. Picture courtesy Rediff, who caption it: "India pacer S Sreesanth sheds tears of joy after the Punjab team finished with a 66-run victory." Eh?)
Update: Rediff's changed their caption!