I'm delighted to announce the result of the cover design competition for my first novel, My Friend Sancho. We received so many fabulous designs that it took us a while just to look at them all carefully, process them, and make a shortlist after considering all the parameters. Hachette India, my publishers, were awed by the range of designs we had to choose from—and I am deeply grateful that so many people chose to take part.
After much debate, we have a winner. Prem Kishore of Hungry & Foolish Creative Products walks away with Rs. 15,000 worth of Hachette India books. Here is his design (click on the image below for a larger image):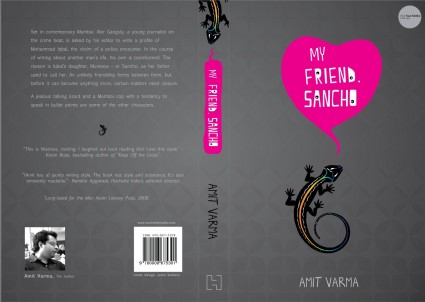 There will be minor tweaks, of course, and the text and photograph at the back are dummy, just for the purposes of designing. But here it is.
Of all the other designers, I'd also like to mention Manish Sahu, a designer from Nagpur who also writes a pretty neat blog. Manish entered designs like Virender Sehwag hits boundaries, and more than half the shortlisted designs were by this one dude. My publishers and I felt awful that after all that work, he didn't win, so we will send him a special Hachette hamper—and I'm certain he's going to design many covers for many lucky writers. A couple of his designs, and other special mentions, below the fold: