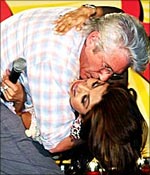 Richard Gere wanted to demonstrate at a recent function, at which he was speaking with Shilpa Shetty, that the HIV virus cannot be spread by kissing, and he decided "to make his point by kissing first Shilpa's hand, then hugged her, kissed her cheek, and finally bent over the surprised actress to give her a big kiss, Hollywood-style." The report that excerpt is from finds this flattering, and begins:
We've always known Shilpa Shetty is a pretty woman, but now we have an official endorsement from a visibly smitten Richard Gere.
It also makes the valid point: "The curious thing is why Gere would choose to continually, and emphatically, keep kissing the actress in a show of safety—while neither of the two have HIV, to begin with." Heh.
Meanwhile, in Varanasi, fans of Shilpa "burnt effigies of Gere."
Members of the Shilpa Shetty Fan Club took to the streets raising anti-Gere slogans. They later burnt an effigy of the actor demanding that Gere either apologise for his indecent conduct or else leave the country immediately.

"Shilpa Shetty conquered all racial swipes to win Big Brother in England, but the Hollywood actor—by unnecessarily planting kisses on Shilpa's cheek—has not only done disservice to the AIDS campaign but has also blemished the rich Indian culture," Iqbal, who led the Shilpa Shetty Fan Club, said.
I think they're jealous. They wish Richard Gere had kissed them instead of Shilpa.
Anyway, Indian culture is blemished now. What a pity. It was fun while it lasted.
(First link via email from Prabhu.)